So I was asked to make a simple style guide for a forum I'm on, to help new members with different styles.. ^^ And I thought I could as well post it here too in case someone is interested ^^'
Lolita
Lolita is known for being well dressed, elegant and, for the most part, not showing very much skin. Her knee lenght bell shaped skirts is pretty much obligatory. A proper coord mainly consist of something on her head, a shirt, a skirt/dress, petticoat, knee socks and shoes. Ruffles, lace and prints are common in this style. Popular brands are Baby the stars shine Bright, Angelic Pretty and Innocent World.
Substyles: Sweet lolita, gothic lolita, classic lolita, sailor lolita, country lolita, punk lolita, hime lolita, ouji etc. Read more about the different substyles
here
.
Aristocrat
Also known as EGA (elegant gothic aristocrat), is a more mature style. The dresses are mostly long and it doesn't have to be bell shaped. You can wear pants as well as skirts. Vests and hats are common. In general similar to lolita, cover much skin, ruffles on the shirt, long coats and so on. A popular brand is Moi-même-Moitié.
Decora
Playful and colorful style. You recognize it by the shorter skirts, the layered socks and the ton of hairclips, bracelets and other accessories they carry.

Cosplay
Cosplay is basically short for "costume play". The people commonly choose their characters from a manga or an anime to cosplay. But it's not unusual that people choose characters from video games, movies, american comics, famous singers and band members as well. Most cosplayers make their own costumes instead of buying one.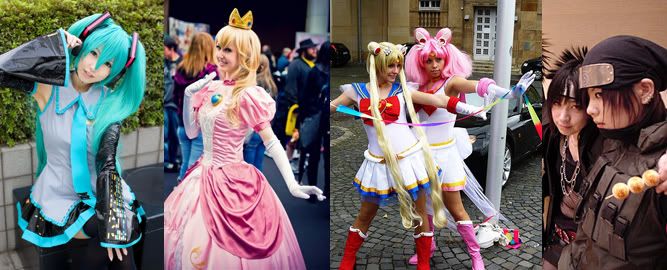 Gyaru
Also known as "gal". This style includes enormous falselashes (both top and bottom), circle lenses, curly well styled hair and long decorated nails. The clothing are chic and sexy. Gyarus follow the latest trends and are always well styled to every last detail. A popular brand is Liz Lisa.
Substyles: Hime gyaru, B-gyaru, onee gyaru. Read more about the substyles
here
.
Ganguro
An old style that's rarely seen today. It evolved from gyaru. The main difference between the styles is the make up. Ganguros main point of fashion is their dark skin and the very white make up used as a contrast. Also their clothes are more colorful, and sometimes their hair too. You can (or could) also see ganguros dress in kigurumis. It seems common to adore Disney characters and Hawaii flowers in this fashion.
Substyles: yamamba, manba, kogal. Read more about the substyles
here
.
Visual Kei
This is a scene style, invented and developed by the very many j-rock bands from Japan. It's hard to see how these styles are all connected, because each and every one of them are so very different from another in the way they have evolved. Straight hair, elaborate make up and darker colors seems to be the most common, but you will also find the most costume-y spectacular scene wear involving rococo dresses, feathers or colorful cyber twists as well.
Substyles: oshare kei, kote kei, nagoya kei, angura kei, koteosa kei etc.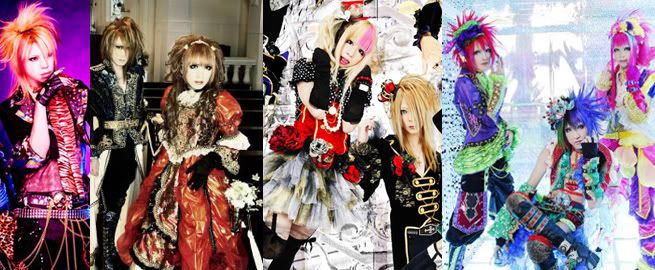 Otome kei
Otome means maiden. The style is cute but still kinda casual in comparsion to the other styles. An example of some otome brands would be Emily Temple Cute and Jane Marple.

Dolly
Dolly got it's name from the old antique porcelain dolls and it takes inspiration from old antique things. You will se many references to eastern european national costumes in this fashion. Embroderied vests and tassels are common signs. The most popular and known dolly kei store is called Grimoire.
Mori
Mori means forest. Mori takes inspiration from the forest in her outfits. Her colors are very earthbound to brown and beige. The clothing is, for the most part, very loose and the A line shape is very common. Mori likes to dress in many layers. One popular mori store is called Onepi-c.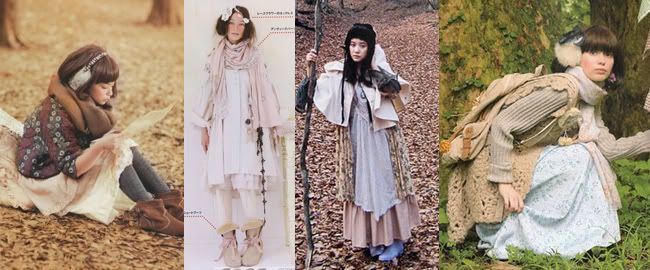 Natural kei
Just like mori the natural kei style is very close to nature. If you imagine the mori girl wander in the forest than the natural kei is the girl living in the cute cottage. The natural kei style has a more fitted shape, less layers and less frayed edges. Aprons apears in this style. The colors are slightly more colorful than mori and patterns appear a bit more, like small flower patterns. A popular brand is Pink House.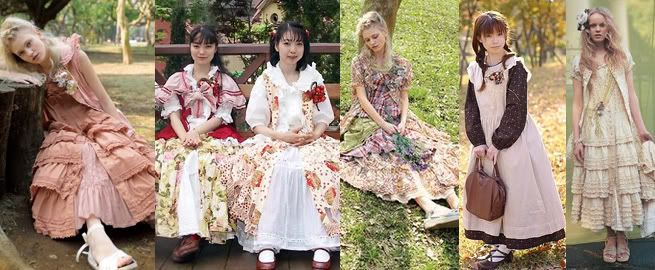 Cult party kei
This fashion reminds you of dolly at first glaze, but it might actually be closer to mori and fairy kei. The fabrics are often sheer and they use a lot of gingham and patchwork in their outfits. The colors are often pastel but a lot of red is also seen. Common pieces are robes. Cult kei has the most extraordinary accessories, crosses made of hair, barbies without heads, and even anime characters. The most popular cult party kei store is called the Virgin Mary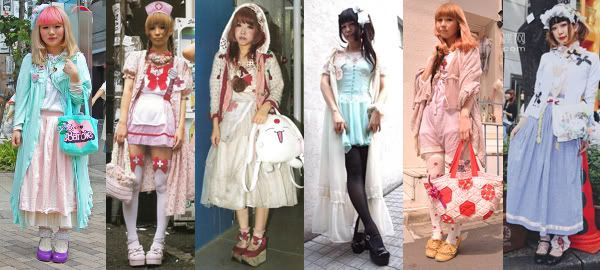 Fairy kei/pop kei
This style is inspired by the 80s pastels. 80's cartoon characters have a center role in this fashion and you'll see a lot of My little Pony prints and Care Bears. Similar to decora, Fairy kei wears shorter colorful skirts, often in tulle for the fairy feeling. The most popular store in this fashion is called Spank!.
Kigurumi
A big pajamaslike one piece shaped like an animal. Were originally worn by the ganguros, but is today mostly seen in conventions and expos without the ganguro make up.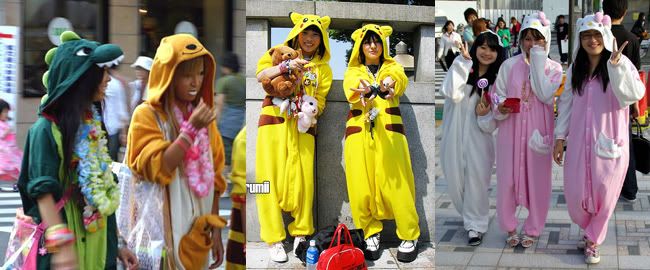 Steampunk
Steampunk takes inspiration from the time of the industrial revolution and its inventions, with a dose of sci-fi and fantasy. The fashion consist mainly of leather and metal. Not only is the clothing important, but people in this style put a great focus on the inventionslike accessories they carry with them.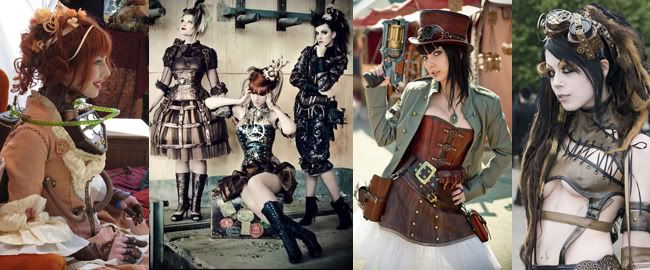 Takuya Angel
Takuya Angel is a style (and brand) with big influences from the traditional japanese fashion, however with modern materials and influences of Western designs as well as Japanese anime and manga.
Maybe it's a little useful to some :)
All the pics are from Google Images.