So the new year is just around the corner. Time for reflection.


2011 have been a very eventful year for me. I can hardly belive I've actually lived in five different places this year! 2011 has been the year that completely changed me and also the year where I found a true happiness I haven't felt since I was 15 years old. The time in Germany was without any doubt the most amazing experience I have ever gained in my life.
My favorite movie this year has been Harry Potter and the Deathly Hallows part 2. I discovered I absolutely love Mexican food and I have all of a sudden learned to eat boiled veggies. For the first time in my life I started to enjoy cooking, and for the first time in many years I actually read a book (not only one, seven! the Harry Potter series). The most scariest experience was when I drove a cart for the first time (not the rent type, but the real deal). I was scared to death, but I did it! Some goals I managed to reach this year was to live abroad, watch all 50 Disney classics and complete my boyfriends Don Rosa collection (I've been collecting these books for him for years, and I finally got the last book!).
This year has been poor in my wallet, but very eventful with so many experiences instead. I learned to get over my need for materialistic items and replace it with experiences. My saddest moments was when I left Germany and when my camera broke. However my 25th birthday was unusually lucky and I received a new camera and also a new cellphone (among many great items) which I was in great need of and I'm still thankful every day for these items.
I didn't wear lolita as frequent as previous years, but I can still pick 7 favorite outfits from the year. Compared to 2010 while my style still had a lot of sweet in it, my style 2001 mainly consisted of classic and country.
outfit rundown
outfit rundown
outfit rundown
outfit rundown
outfit rundown
outfit rundown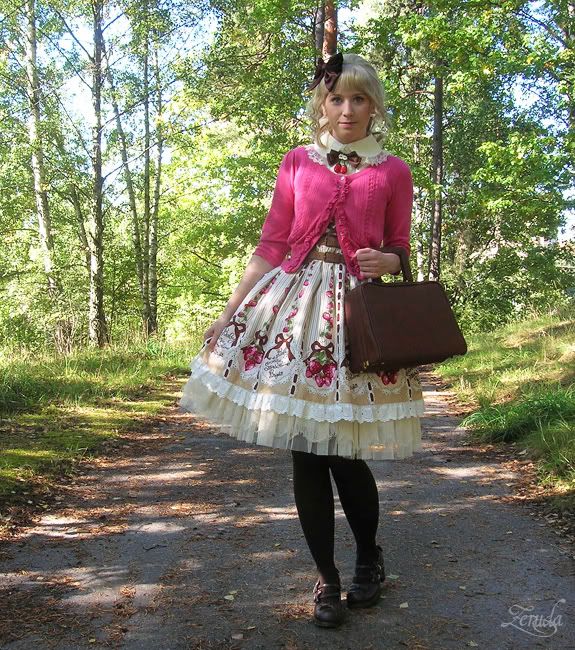 outfit rundown